Well, since I already bugged you by talking about why rural tourism is so cool and why it must be supported, today I'm bringing a selection of our favourite rural hotels. I won't get my feet wet by saying they're the best –I wouldn't like to be accused of false advertising–, but we know all of them first-hand and each one has something special. They are doubtlessly charming rural hotels.
El Castell de La Pobla de Lillet is the perfect hotel for a romantic getaway to Berguedà. It lays in La Pobla de Lillet –hard guess–, in an intimate corner of its medieval old town, and in no less than a 13th century building, fully renovated to offer every amenity. It's ideal for couples, very romantic, meant to relax and to switch off while enjoying a gastronomic experience. It's the first Adults Only hotel in Berguedà; rustic, homely and elegant at once; key ingredients for a romantic night. And, on top of it, you'll have a fireplace, private SPA and massage service. Could you ask for more?
The hotel is run by a lovely couple. He is also the chef who will make us a surprise tasting menu, made with local products, that he will entirely prepare in front of us since we'll eat in the very kitchen while enjoying a show-cooking performance.
Moreover, the place offers privileged natural surroundings crammed with cultural heritage, from Romanesque to Gaudí's works as the Artigas Gardens.
This is an extraordinary place for a couple getaway. High-quality rural tourism, with all the magic of the historical past and rural environment, and all the comfort and modernity of a romantic hotel.
Ca l'Amagat is a classic in Bagà. A very homely gastronomic hotel with a long family legacy: it starts 4 generations ago, in the early 20th century, as a tavern, then as an inn, and later the parents of the current owners renovated the whole place. A small, warm an cosy hotel, with one of the top restaurants in town. Homemade traditional cuisine keeping the classic flavours of the rustic Pyrenean cuisine but adding an avant-garde touch. A rural lodging par excellence, with the only ambition of making the visitor feel at home, at the gates of the Cadí-Moixeró Natural Park and right in the centre of the Alt Berguedà's historical capital. Perfect for spending a week discovering the Bergadan Pyrenees.
Rústic Vilella is a rural house in Gisclareny which is rented by rooms. It's rustic, small and homely, everything stays within the family. Just as if you were home! They also offer a lovely treehouse, ideal for a magical and wild couple getaway. The rooms have spectacular views since the house is placed in a truly privileged spot. It's a very comfortable lodging, away from the town, with a magnificent garden and a heated pool. It's perfect for couples as well as families, and it also hosts organised retreats to enjoy the calm and the nature. If you're looking to get away from everything, this is your place. Furthermore –and as expected–, they take care of the region by betting on sustainable tourism, offering an electric car charger for free and using local products for their cuisine. It's worth it!
Cal Franciscó, in Gósol, is a hotel placed in a lovely country house, in one of the most charming villages of the Pedraforca Massif. The rooms are rustic but fully renovated, and they are very cosy. The atmosphere is peaceful and familiar. It has awesome outdoor areas and warm interiors, and a great home cuisine restaurant with bergadan and self-elaborated products. And the surroundings…  Splendid. Horses, calves and squirrels right by the door! And the Pedraforca just a stone's throw away! You can't miss it!
Similar in style is Cal Gabriel, in Tuixent, also next to the Pedraforca. Cal Gabriel is a family project which has resulted in a tiny rural hotel and restaurant with a great Tripadvisor rating. The owners are very hospitable; the treatment is close, and the environment is warm and familiar. It is a lovely rural hotel, rustic and homely. Moreover, the surroundings are incredible and have a great offer of cultural and outdoor activities.
In the restaurant, they go for a traditional cuisine based on proximity, organic and high-quality products. Whether for lunch or to spend some days, it's an excellent choice.
Speaking of family projects, we can't forget El Recó de l'Avi, in Guardiola de Berguedà. El Recó de l'Avi is the restaurant of the rural hotel Casa Duaner, and it is a legendary establishment. Why? Well, because it's the Avi del Barça's restaurant (the birthplace of the beloved FCB grandfather). Yeah, the one who appears in the FCB pictures with a white beard and all dressed up as a Barça fan. However, disregarding your football club affiliation –and even if you don't like football at all– they'll treat you as family and you'll enjoy a very nice meal. El Recó de l'Avi is a familiar establishment, cosy and, above all, very authentic.
Now, looking at the other side of the Cadí mountain chain, I feel impelled to recommend you the Hotel Intrèpid, in Pi de Cerdanya, although it's all been said by its 5/5 rating in Tripadvisor. It's an Adult Only rural hotel offering a very comfortable and quiet space, ideal for group stays, companies… And for a romantic getaway as well! It's placed in a lovely, rustic mountain house, the old Cal Bonet house, fully renovated but keeping its original structure. Thus, it's a fully renewed lodging, yet without loosing the rustic and warm charm of mountain manors. With bike rental and ski storage service, it's perfect for relaxing and feeling home after a day of sport and adventure in the mountains. And with every amenity!
Not far from Pi, in Prullans, we find the Hotel Muntanya. It's a fantastic country hotel, belonging to the Cerdanya EcoResort. It has everything you can imagine, from camping tents to suites. On top of that, they favour sustainable gastronomy: seasonal, organic and proximity products. Feel free to visit their website, I must insist you'll find countless things to discover, from healthy tips to plans to get away from the routine.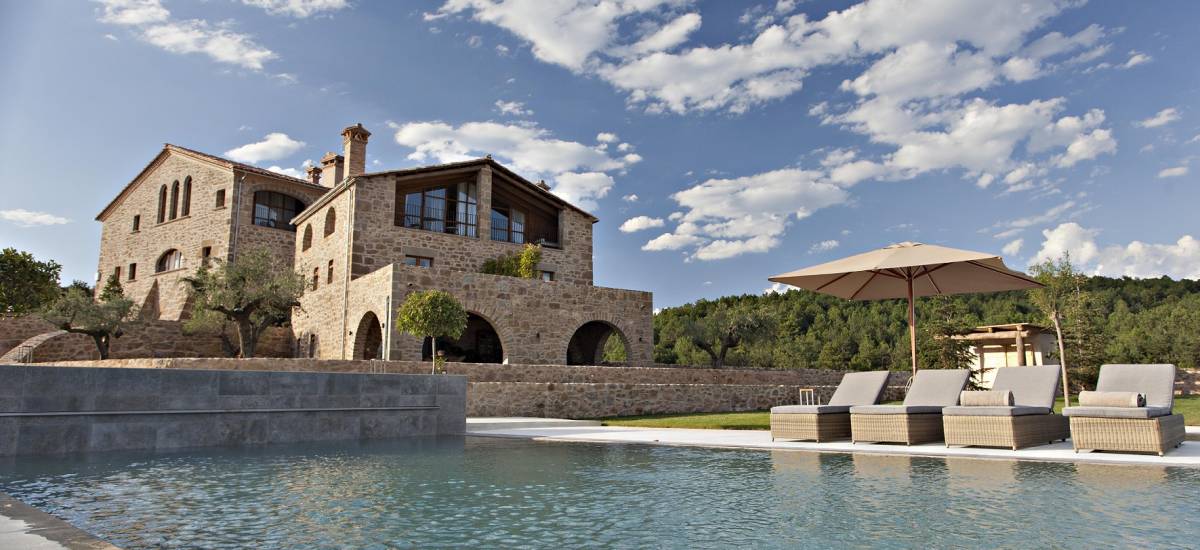 To end with –I don't want to bore you–, we'll level up: we enter the world of luxury rural tourism by mentioning La Vella Farga in Solsona. It's a charming rural hotel placed in an 11th century country house, fully restored and fit up to offer the best amenities in a rustic, familiar and homely environment. It combines wood and stone with a contemporary design, antique furniture and sophisticated modern elements, to offer a luxury hotel which does not lose the warmth of a rural house. Furthermore, they offer private country houses near the hotel…
The hotel's restaurant is a gastronomic restaurant, with signature cuisine based on proximity products. Quite an experience by itself.
What else could I say? It's a space where the littlest details are paid attention to. A luxury hotel in a privileged spot where to enjoy the silence, the calm, the nature and the sweetest comfort. Simply spectacular.
Each one of these establishments has its own magic. Each and every one is unique, and they all embody the values of rural tourism: familiarity, history, land, sustainability. Each one of them with its particular touch. Authentic, distinct and charming lodgings. All of them are worth knowing!